Last year, in line with our pan-African efforts to provide in-depth support to startups across the continent, we launched our flagship programme – CcHUB Seedr. This is an acceleration programme designed to support impact-driven founders, in emerging startup ecosystems, to build sustainable businesses and raise funds to expand and improve their operations. To kick off, we pitched our tent in Namibia and put out a call for applications.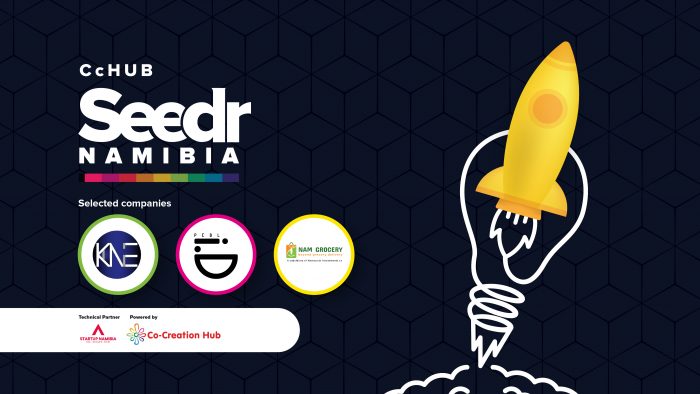 Why Namibia?
According to UNDP, Namibia appears to be one of the few African countries that is successfully maintaining its millennium goal by supporting business development and entrepreneurship and creating new jobs. In 2021, Namibia made its debut entry in the Global Startup Ecosystem Index rankings, placing 99th. This lends credence to the belief that the ecosystem is promising, and a lot of its entrepreneurship potential can be unlocked with the right support structure.
After a thorough review process in collaboration with our local partner – Startup Namibia, we are excited to announce that we have selected three (3) exciting Namibian startups. They are:
Nam Grocery: Nam Grocery is a B2C E-commerce startup focused on grocery sale and delivery. The e-commerce sector is currently emerging in Namibia. The recent trends point to a lot of potential in the space as the pandemic showed the urgent need for use of e-commerce by Namibian businesses and its citizens. Nam Grocery, led by Carlos Sanjuquila, is set to tap into this potential. It currently offers a wide range of products at competitive prices and packages.
Kanie Supply & Distribution Chain: Kanie is an AI powered technology company that specializes in data monitoring, collection and processing with the use of drones for Agriculture, Nature Conservation and Construction. In Namibia, Kanie is the only drone shop that provides a complete package of services, up to repairs, refurbishment and repurposing of drones. The company was founded by Virginie Uwimana, and we are excited to support her and the team on this journey.
PEBL: PEBL designs and assembles computers in Namibia, for Africa and the world! The company, led by Vincent R. Van Wyk, has a wide range of products which include energy-saving computers, gaming laptops and a small form factor PC! PEBL is a Microsoft Local Device Partner and is poised to scale into bigger African markets.
Over the next few months, we will be supporting the teams to expand their operations to more cities in Namibia and across the Southern African region, as well as increase their customer base and revenue.
In the first phase (3 months), we will focus on supporting the companies in areas such as Distribution, Product Development, Organizational structure and Funding. On completion of phase 1, the startups will present to investors through the CcHUB syndicate. After which, phase 2 will focus on investment support to close their fundraising engagements.
If you would love to receive first-hand information and unrestricted access to any of the events (demo day, showcase, etc) that will take place during the programme, kindly register your interest here.