We are excited to announce that Google for Startups has launched the Black Founders Fund in Africa and we have partnered with the team to lead the disbursement of the fund. This fund will provide grants, Google platform credits and technical support to early-stage startups in Africa to grow their companies and create meaningful impact in their communities. The aim of the fund is to bridge the existing fundraising gap for startup founders in Africa's fast-growing technology landscape.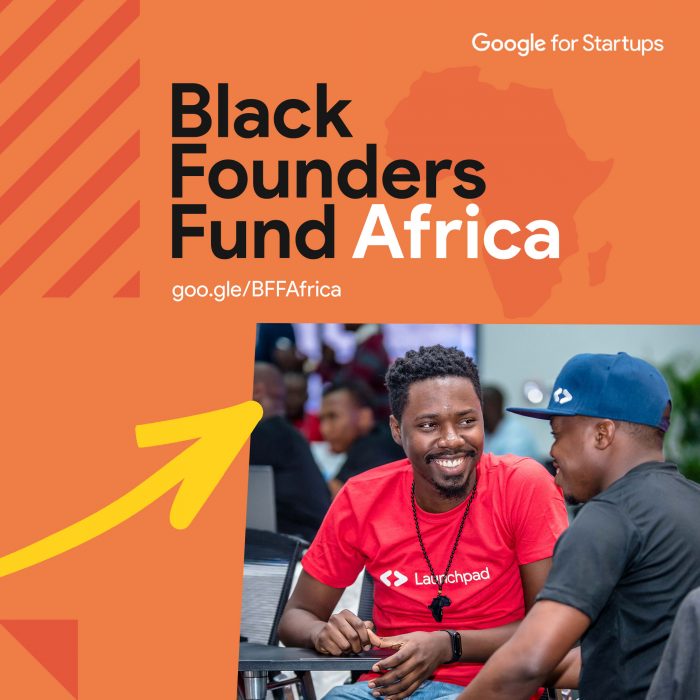 At CcHUB, we are proud to be working with the Google team as Fund Disbursement partner. Our team will be actively involved in the process providing insight and technical support from the selection process through to the final deployment of the capital. We would also monitor and evaluate the performance of the companies that benefit from this catalytic funding.
Speaking on the launch of the Google For Startups Black Founders Fund programme, Bosun Tijani, CEO Co-Creation Hub (CcHUB) and iHub, says,
It is heartwarming to see Google's continued commitment to strengthening and elevating the start-up ecosystem in Africa. Google was one of the early believers in tech entrepreneurs across Africa and the evolution of the support over the last 10 years reflect a thoughtful and contextualized commitment. This programme will not only empower founders across the continent but also deepen the pipeline and unlock follow-on funding from both local and foreign investors. It is extremely timely.
What are the benefits of the Black Founders Fund Africa?
The fund, which is a $3M non-dilutive (equity-free) fund, will be allocated across a pipeline of 50 investable early-stage startups in Africa. Selected companies will receive the following:
Up to $100,000 in cash awards. Each startup will receive either $50,000 or $100,000. Funding varies according to each startup's product development stage, current needs, and how much they've already raised.
$220,000 in Google Cloud Credits and Ad Grants.
Mentoring, technical and scaling assistance from the best of Google and its resources.
What is the eligibility criteria for the Black Founders Fund Africa?
A startup that is headquartered in Africa or has a legal presence on the continent.
A founding team that is diverse, with at least one Black C-level founding member
A Technology startup with a live product in market or business where technology is core to their ability to scale (not for consultancies or not-for-profits)
A product/business that is compatible with Google products.
Eligible countries: Botswana, Cameroon, Côte d'Ivoire, Ethiopia, Ghana, Kenya, Mozambique, Nigeria, Rwanda, South Africa, Tanzania, Uganda, and Zimbabwe.
How to apply for the Google for Startups Black Founders Fund Africa
To learn more about the fund and apply:
We will also be having an info session aimed at helping prospective applicants get a deeper dive into the fund- the application process including the form, eligibility criteria, benefits, and other relevant information. Attendees will also have the opportunity to get responses to their questions.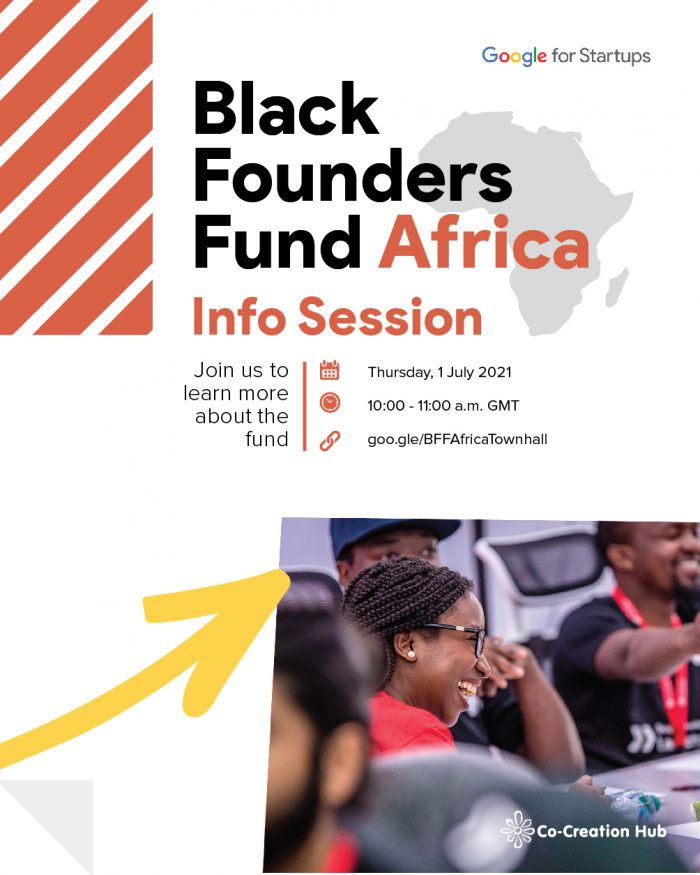 Black Founders Fund Africa Info Session Details:
Date: Thursday, 1st of July, 2021
Time: 10.00 am GMT
Venue: goo.gle/BFFAfricaTownhall
Duration: 1 hour