On August 10th, 2022 we had an insightful conversation with INEC about PVC collection – You can catch up here https://twitter.com/i/spaces/1YpKkZllMLjxj?s=20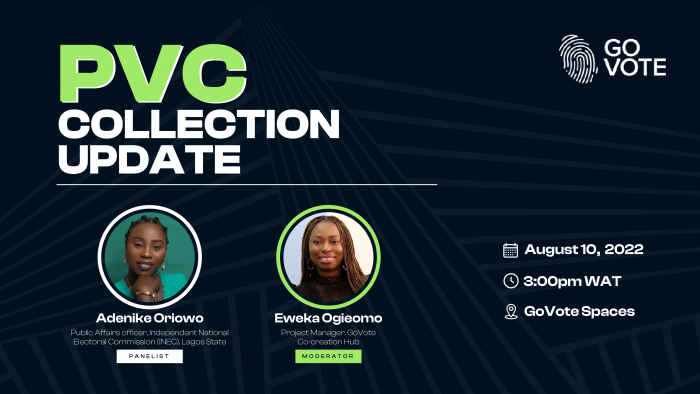 Did you register in 2021? PVC registrations done in 2021 are now ready for collection. Visit your INEC LGA office where your voting unit falls within to pick up your card. Also, uncollected PVCs from 2011 & 2019 are available for collection. Remember, your Permanent Voter Card (PVC) is the only tool to vote in the elections.
The power of any democracy is with the people. As you may already know, the election is around the corner. On February 25th 2023, Nigerians will head to the polls to vote and elect representatives for the office of the President & National Assembly on 25th February 2023 and State Governors & State House of Assembly on 11th March 2023.
Save the dates, collect your PVC and get ready to vote.
According to the Independent National Electoral Commission (INEC) data, about 70% of registered voters are young people. Therefore the participation of young people in the elections will be very significant. The 2023 general elections will be decided by your participation and turnout on election day.
Follow us on Twitter @GovoteNg and Instagram @govote.ng for simplified election information on all platforms.