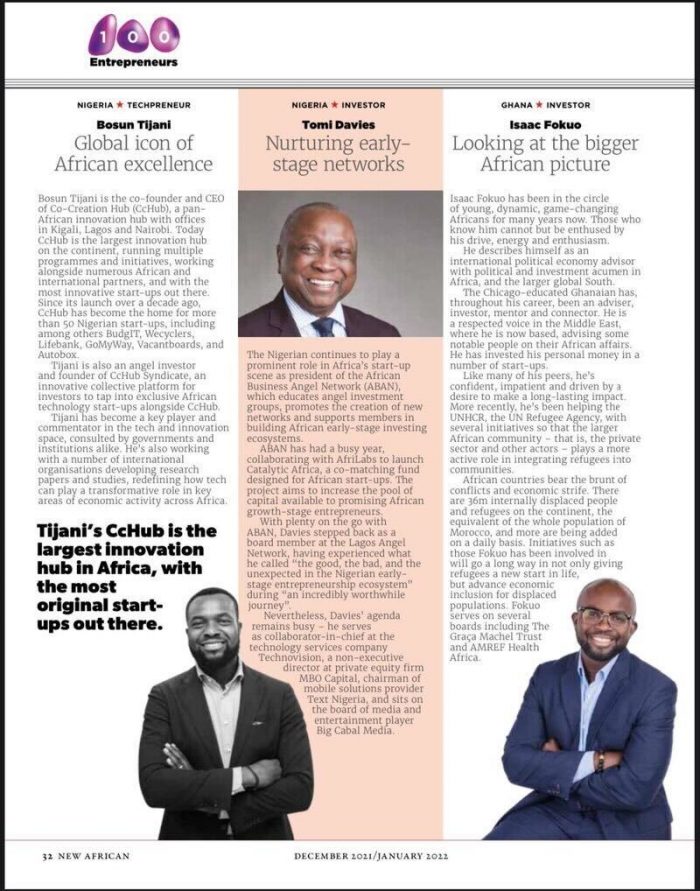 Global Techpreneur, Bosun Tijani has been recognized and honoured with the Global icon of African excellence Award by the New African Magazine.
Bosun Tijani is the co-founder and CEO of Co-Creation Hub (CcHUB), a panAfrican innovation hub with offices in Kigali, Lagos and Nairobi. Today CcHUB is the largest innovation hub on the continent, running multiple programmes and initiatives, working alongside numerous African and international partners, and with the most innovative start-ups out there. Since its launch over a decade ago, CcHUB has become the home for more than 50 Nigerian start-ups, including among others BudgIT, Wecyclers, Lifebank, GoMyWay, Vacantboards, and Autobox.
Tijani is also an angel investor and founder of CcHUB Syndicate, an innovative collective platform for investors to tap into exclusive African technology start-ups alongside CcHUB.
Tijani has become a key player and commentator in the tech and innovation space, consulted by governments and institutions alike. He's also working with a number of international organisations developing research papers and studies, redefining how tech can play a transformative role in key areas of economic activity across Africa.
Tijani's CcHUB is the largest innovation hub in Africa, with the most original startups out there.
Published continuously since 1966, The New African, an English language monthly, has consistently brought an African point of view to international news. It is the essential magazine for government officials, businessmen, professionals and Africa-watchers.
New African magazine's Most Influential 100 is the oldest and definitive annual listing of Africa's most influential people. It is the most diverse list in terms of breadth and people, The New African magazine compiles this list to recognize and honour men and women who had a significant impact in their different fields.