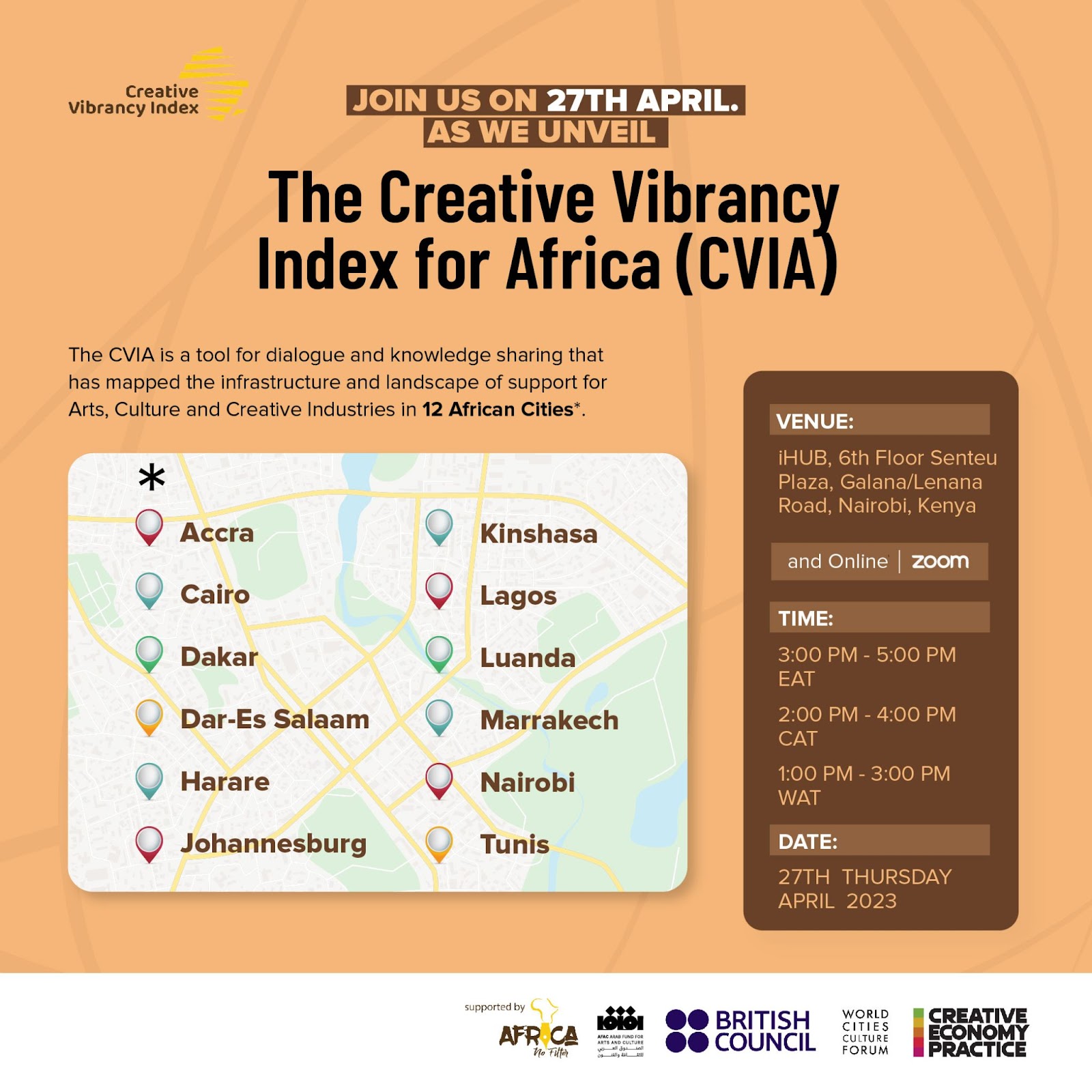 Great news for the creative industry in Africa! The Creative Vibrancy Index for Africa (CVIA), a project delivered by the Creative Economy Practice at CcHUB in partnership with Africa No Filter and funding support from the British Council, is about to be launched.
The Index provides a comprehensive ranking system for African cities based on their support for arts, culture, and creative industries. The goal of the index is to inspire growth in the sector and stimulate dialogue and action to enhance the support available for artists and creative entrepreneurs.
The CVIA offers valuable data and insights for investors, funders, and stakeholders in the creative and cultural industries, providing a comparative view of the landscape across 12 African cities, including Accra, Cairo, Dakar, Dar-Es-Salaam, Harare, Johannesburg, Kinshasa, Lagos, Luanda, Marrakech, Nairobi, and Tunis. In addition, future updates to the index will include additional cities and track changes in the cities already mapped.
The CVIA was conceptualised, funded and supported by Africa No Filter, a donor collaborative funded by Ford Foundation, Bloomberg, Andrew W. Mellon Foundation, Luminate, Open Society Foundations, Comic Relief, the Conrad Hilton Foundation, the British Council, and Hewlett Foundation. Moreover, the Arab Fund for Arts and Culture, and the World Cities of Culture Forum, as part of the project's advisory board, provided technical input to the index development.
The launch of the index will take place on 27th April 2023 at iHub and online on Zoom. 
To register for the launch,  please go to: bit.ly/3l5jC99
Three(3) workshops will be held on Cultural Infrastructure, Cultural Policy, and Enabling Environment to encourage engagement with the Index and solicit recommendations on how cities can improve their support for arts, culture, and creative industries.
These workshops will be open to artists, creative entrepreneurs, cultural policy experts, and other stakeholders. Each workshop will begin with one or two city case studies on the theme of the workshop, followed by a brainstorming session to provide recommendations for cities linked to the theme. The recommendations from each workshop will be published on the Index platform as an inspiration for cities seeking to enhance indicators relating to these areas.
This is an exciting opportunity for artists, creative entrepreneurs, and cultural policy experts to learn how their city can improve its ranking and support for the arts, culture, and creativity industries. The workshops will take place on 3rd May, 10th May and 17th May. 
Register now to secure your spot and join us for these inspiring events!
To register for the workshops, please go to: bit.ly/CVIAHackWorkshops