The Technology and Society Practice of Co-creation Hub hosted the International Women's Day Celebration on Twitter Space on March 8th 2023.
The conversation was themed "Innovation and Technology for a Gender-Responsive Society.", and it aimed to spotlight the impact of technology on women and the importance of protecting women and girls' digital rights in online civic spaces to address gender-based violence, especially in Nigeria.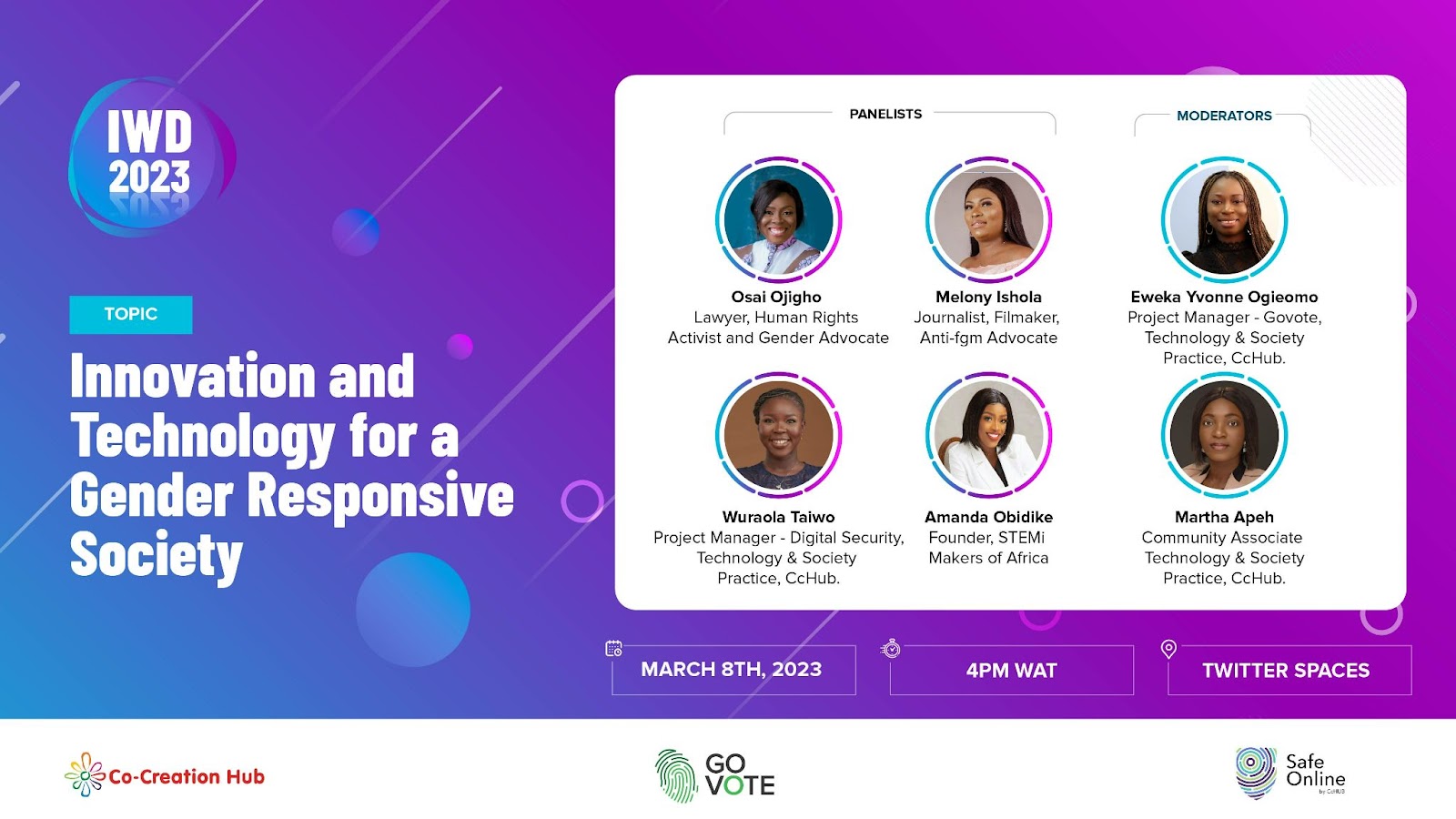 During the conversation, Osai Ojigho, a lawyer; human rights activist; and gender advocate, discussed the frequency of human rights abuses in online public spaces.
She outlined the rights to freedom of speech, expression, association, and assembly that are guaranteed by the Nigerian constitution and international agreements, adding that these rights are connected to the use of social media or other digital spaces and are frequently infringed. Osai asserts that women frequently face greater online limitations than men; hence it is crucial for social media platform providers to make sure that women can access and feel safe in the online digital environment. Because both genders can compete on an even playing field in social media digital platforms.
Osai stated that while there are no specific policies posted online, Nigeria has embraced international norms specifically for the protection of international human rights advocates. The main obstacle is actually putting these guidelines into practice to protect individuals. It will take approximately 200 years before parity is achieved, according to the World Bank and the United Nations. Thus, we require more procedures that will support women and remove obstacles that prevent them from advancing professionally.
Also present at the event was Amanda Obidike, founder of STEMi Maker of Africa. She spoke about the necessity of encouraging more women to pursue careers in STEM fields in order to hasten the inclusion of women in innovation and technology. She noted that the dearth of regional material that encourages girls, women, and young people to pursue STEM careers in Nigeria and other parts of Africa is a cause for concern and restricts women.
She also asserted that we must create "customized inventions" with immediate application to women and girls across Nigeria. "Having tools and training are not enough" because there is a need for direction from experts who have charted the same parts and who should act as mentors to these women and girls who have chosen careers in STEM. In order to encourage more women to innovate and enhance their performance at work, she also emphasized the need for collaboration and partnerships as well as the need for employers to adopt job shadowing programs.
Amanda further discussed the advantages of a career in the stem. She said that educators are frequently adept at acting as gatekeepers and assisting girls in making educated decisions. Girls need to reject gender-based stereotyping and create alliances with the opposite gender. The policy also has a significant impact. This has the power to alter the status quo and motivate more girls and women to participate.
Melony Ishola, a journalist, filmmaker, and advocate against female genital mutilation, focused on the difficulties and abuse women journalists face online while discussing the rise of journalists and media professionals who are not adequately prepared in the online civic sphere. According to Melony, the media's primary functions are protection and education, which entail improving cooperation with the security apparatus to foster swift security responses. Private ownership has also impacted the calibre of information distributed, necessitating cooperation to safeguard women and girls. She continued by sharing her own story of being fat-shamed and abused online as a result of gaining weight after giving birth.
She started an online audio program called "snapback audi" as a result of the event to help other women who had experienced online abuse and violence. According to her, in hopes of ensuring a secure place for women, including girls, in online digital spaces, online abusers, predictors, and violators must be reported through all authorized platforms. In order to combat gender-based violence online, advocacy in digital media should be strengthened along with legislation to punish offenders.
Melony also spoke about the influence-policing strategies that are used in campaigns and advocacy efforts against female genital mutilation (FGM). Additionally, she thinks that more effective initiatives are required that have a direct influence on the families or communities who are most negatively impacted by this practice.
Also present at the event is Wuraola Taiwo, a digital security professional with CcHUB. She urged women to take up initiatives and explore the technology industry by encouraging them to learn the skill and seek mentors in order to get technical skills. In her words, "Tech is not a boy's club; it's for everyone." There is an increase in women getting digital skills compared to previous years, but more needs to be done to raise women and girls with the soft skills they require to innovate. She also asserted that women could challenge online violence without hiding or cowering.
The conversation was moderated by Eweka Yvonne, the Project Manager of GoVote at Co-creation Hub, and Martha, the Community Associate Tech and Society Practice CcHUB.