SabiTeach, a Nigerian edtech startup notable as a tutoring marketplace that assists learners to find and connect to trained and better tutors for both online and in-person learning engagement, in conjunction with EdtechCOE is opening applications to the first cohort of its Tutorpreneur Fellowship programme.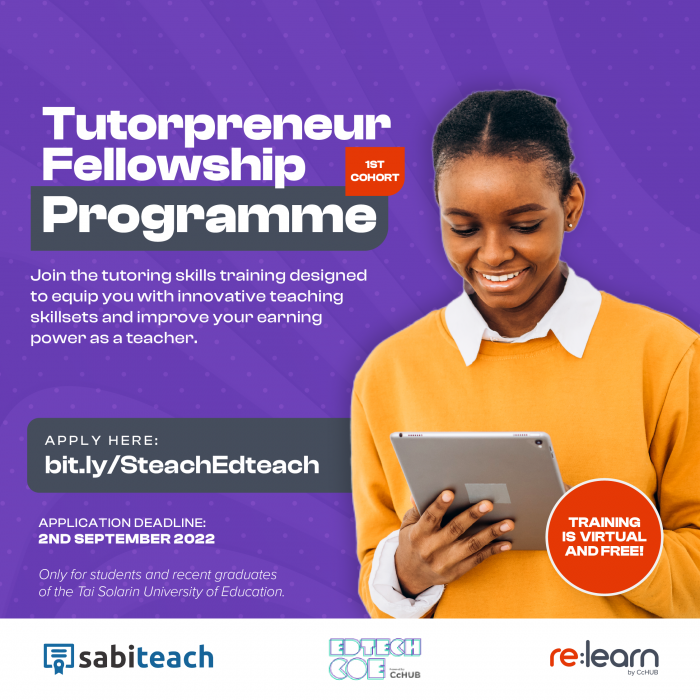 The fellowship programme aims to improve the earning power of vetted and pre-trained in-service teachers and pre-service teachers by equipping them with innovative teaching skillsets and connecting them with learners who pay based on contractual agreements. This programme is completely free and training is done virtually.
Expected participants of the programme are penultimate students, final year students or pre-service graduates from the Tai Solarin University of Education, Ijebu-Ode, looking to embrace innovative classroom management practices and improve digital literacy skills to meet the learning needs of students.
The following are the criteria for shortlisting participants for the programme:
Eligibility Criteria
Participant must be recent graduates, current graduating students or penultimate year students of the Tai Solarin University of Education, Ijebu Ode.
Participant must have a minimum CGPA of 3.0, a Valid ID Card (School or National), with no history of exam malpractice.
Training sessions are delivered virtually so participants will need to ensure they have the relevant technology to support their participation in the program.
Participant must have access to a stable internet connection and a laptop with a web camera and microphone.
Participant must be able to commit 5 weeks to follow through with the program fully if selected.
While the primary purpose of the programme is to equip participants with valuable teaching skillsets, shortlisted participants would get to reap the following benefits:
The benefits of the program
Participants will access training from skilled mentors in the education field
Participants will develop 21st Century skills required to facilitate qualitative teaching and learning
Participants will improve digital literacy skills to meet the learning needs of students
Participants would have the opportunity to join a growing community of young teaching professionals
Participants will understand the business of education and increase their earning power as a teacher.
The application deadline for the Tutorpreneur Fellowship Programme is September 2, 2022.